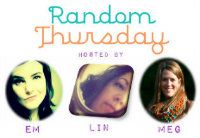 I decided to link up with
You're Meaghan Me Crazy
for Random Thursday!
The topic this week is TV Shows you wish were never canceled and I just couldn't pass up the opportunity to mourn my favorites.
1- United States of Tara
I miss this show so much. The ending was bitter sweet-- was see Tara driving off to impatient with her very beat up alters sitting in the back of the trunk. BUT THEN WHAT HAPPENS? I hope they have a 5 year special or SOMETHING. I'm begging you, Showtime- Tell us what happened to Tara!
2- October Road
I fell in love with this shoe during it's first season-- the actors were relate-able-- second season was a bit of "meh" and I understand why it was canned-- but it deserved at least one more season to tie up loose ends!
3- Happy Endings
I was the only person I knew that watched this show. I'm guessing that's why it was cancelled. But, it was so good you guys. No lies. I laughed every episode! That's rare!
4- Roswell
My high school self will never forgive the WB for this one. Granted, the last season wasn't as sci-fi as the previous seasons, but it was still worth bringing back for one more round! Dang you WB, dang you!
---
Now-- if Revenge, New Girl, General Hospital or Game of Thrones cease to return any time soon, I'd probably cry like a little baby, curl up in the fetal position and sit in the dark for a few weeks. Just kidding. Kind of.